A summary of all our trips to the Zoom and our weekly challenges :
Holiday Zoom trip 19 (27/8): Another relaxed meeting for the holidays. Had a go at Cockney Rhyming slang, did a sound / logo / character / cartoon game, plus best jokes ever.
Holiday Zoom trip 18 (13/8): Cook along with Chef Sam making cookies with a difference.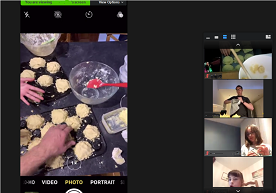 Holiday Zoom trip 17 (30/7): Relaxed informal meet for the holidays, no Challenges. Did a photo quiz of places in Biggy. Also did a sound quiz.
Zoom trip 16 (16/7): Outside meeting - all Scouts in their own gardens. Best jokes ever from the Leaders. Added up the miles from this weeks walking challenge - 2552 miles. We split into rooms and put together a "Covid Rap", Set a Challenge of learning to juggle. We did a word jumble in sign language. (buy I we when from return you will lockdown chips). We played the get wet game of filling a bucket with water and spinning it over our heads, yes some of the Scouts got wet - as intended!!
Zoom trip 15 (9/7): Rubbish j okes from the Leaders. Added up the miles from this weeks walking challenge - 2721 miles. Reminder of things we need to practice when we return (Paper plane, cup song, yoga, juggling). Went into rooms to play desert island disks - Who you would take with you, what song you want to play and one luxury item each. Looked at our Covid Rap.
Armstrong scouts is on the zoom, doing challenges is what they do, telling bad jokes too
There is a scavenger hunt that we do, then pioneering and bunting making too
Were counting our miles day by day, were doing this the Armstrong way
Walking past Prague and Moscow too, we are one mighty crew, every week we learn something new
Yar its scouts zoom , yar don't mess with earth gang it'll be your doom
Yar weekly miles, yar weekly trials
Yaar language of sign, yaar when we Zoom it is going pretty fine
Coronovirus keeping us in, away from all our kin
All i wanted was a mars bar, now living on camp food
Parents complaining, kids busy, life is a real misery
Its the fourteeth week of lockdown, its really starting to make me frown
My hands are getting sore, with this hand washing galore
I hope school will be clean after this Covid nineteen
Although its been really hot, in my port its really not.
Zoom trip 14 (2/7): Brilliant Jokes from the Leaders. Added up the miles from this weeks walking challenge - 2531 miles. Had a Juggling demo then all had a go. Did a Yoga reminder. Did a logo quiz which was really good. Had a quick few words of BSL.
Zoom trip 13 (25/6): Not so great Jokes from the Leaders. Added up the miles from this weeks walking challenge - 2252 miles. We split into rooms and put together a "Covid Rap", Set a Challenge of learning to juggle. We did a word jumble in sign language. (buy I we when from return you will lockdown chips)
Your Challenge is to complete another element of the BIGG Challenge badge – Circus Skills where we would like you to learn to Juggle with any items you choose.
We assume everyone can juggle with one item!! Some of you may be able to juggle with more. The Challenge is to add at least one more item to you current level:
Examples.
I can juggle with 1 item – try for 2 or more.
I can juggle with 3 items – try for 4.
This will be done over two weeks:
For Thursday 2 July you need to tell us your starting skill level and say what items you will be juggling with (those on Zoom will show us)
Thursday 9 July is Juggling Challenge end date. Let us know how you got on (again those on Zoom will show us).
Zoom trip 12 (18/6): Possibly some good Jokes from the Leaders. A good chat about all our Challenges so far and a reminder to submit efforts to Armstrong Email. Set the "Sweets in water" challenge. We did a quiz with a difference (cryptic clues). We split in to break out rooms to design out own badge and also asked scouts for their own ideas of what they wanted to do at Zooms.
Creative Challenge Using water and sweets create an "artwork" of your own design. A search for images of "sweets dissolved in water" will give you lots of ideas!
Zoom trip 11 (11/6): More great Jokes from the Leaders. Reminded the scouts that they were scouts and the challenges were towards their badge work. Showed the water video. Made a world record paper plane. How to make a paper plane Played a game of who am I. Had a round of If I went to the Moon. Set this weeks challenge of creating a design with sweets and water..
Zoom trip 10 (4/6): Chatted about last week. Reviewed the rocket challenge from 2 weeks ago. Added up our Exercise challenge miles. Did a game of "Cryptic Clue Fetch" Talked about Neil Armstrong nd Bear Grills. Played a game of Hangman. Set this weeks BIGG challenge of pioneering.
Make something with sticks and string (pioneering!) We would like you to construct anything you like, the BIGG Challenge ideas are below but please use your imagination (Kite, Garden sculpture, etc)
Build a catapult.
You and your two friends are stranded on an island, build a raft or a boat to get you all home.
London Bridge has fallen down, the Mayor has requested if could build a new one!
Build an outdoor shelter out of natural materials.
Build a camp entrance gateway.
Design and build a pioneering project.
Build a camp flag pole, make sure you have a flag flying from it
Zoom trip 9 (28/5): Discussed what we were doing now lockdown is easing. Played a game of Hangman, did a Yoga session. Set this weeks challenge of the Group Water Challenge.
Zoom trip 8 (21/5): Mentioned Mental Health week - this is best left to the professionals but we agreed that we shold "be kind" to everyone. We split into rooms for a game of being "Virtully rocket wrecked". We had a list of essentials to make a decision on. Set the BIGG Challenge element of Story Time and Digital . Running total for walking is now 1115 miles.
Zoom trip 7 (14/5): Results of picture quiz, Looked at Den/bunting making pictures, Made a Bird Feeder, Looked at keepy-uppy video Walked 220 miles between us
Biggleswade District has introduced "The BIGG Challenge" see the link BIGG Challenge Printable PDF. On completion of the challenge you will be presented with a special Challenge Badge.
Zoom trip 6 (7/5): Did a picture quiz, had a go at sign language. Had a go at the cup song actions CUP SONG TUTORIAL , walked another 230 miles. Set this weeks VE day challenge of bunting and den making.
Zoom trip 5 (30/4): Had a game of Virtual Pictionary". We posted the Keep-uppy challenge (see above), we walked 233 miles and decided to keep walking. Set the challenge of learning the "Cup Song" that we will do together when we return to scouts. You submitted some photos that were uploaded to Instagram.
Zoom trip 4 (23/4): St Georges Day, you baked biscuits, we played a game with string, a tea spoon and cup. Set challenges Keepy-Uppy and Exercise walk distance.
Exercise Walk Challenge: This challenge is to be done every week. Please can you count the distance (kilometers, miles, meters or yards) you cover on your daily exercise outings (Walk, bike, scooter etc).
Add up your weekly totals and report back to us at every Zoom meeting, or Email us for those who cannot join on Zoom. We will add the miles we all cover and plot a chart of how far we get each week. For those who do not leave home walk your house or do laps in the garden and tell us how far you have done.
Zoom trip 3: Easter hats, did a Scavenger Hunt, talked about other activities you are doing. Some of you have sent in Photos (see Instagram). Set challenge 4. Talked about #giveCovidtheboot – details to follow.
Zoom trip 2: Napkin folding, had a smile at our self portraits, looked at other resources during lockdown, (see below!)
Zoom trip 1: We said hello, set up some ground rules, discussed what we wanted to get out of our on line space. Set Wk 2 challenge