We hope you are all keeping well during these difficult times. May we extend our best wishes to you all.
Armstrong Scouts "land on the Zoom" evey week in place of our meets at the hut.

 
Please join us if you can for games, challenges and fun.
If you can't land on Zoom please attempt the Challenges and send your results by Email
Challenges for week commencing 29 May are shown in the table below.
A summary of our trips to the Zoom so far is here: Past Trips to the Zoom
Picture Quiz: Click here to open the quiz that we did on line.
This week's Challenge is changed to "Water Challenge" and replaces Magic Trick which is postponed until later.

We have been asked to join in a Group Challenge to create our own version of a "Water Challenge", see this link https://www.facebook.com/watch/?v=278054633233757

To make the video:

Wear your Neckie, (and a camp T shirt if you have one)
Film your clip in Landscape (phone on its side)
Water arrives from your right
Throw water to your left

Please make sure you capture the whole "event", we will edit the clips together. Please no text in the video, many thanks.

Exercise Walk Challenge: This challenge is to be done every week. Please can you count the distance (kilometers, miles, meters or yards) you cover on your daily exercise outings (Walk, bike, scooter etc).

Week 4 running total 1115 miles. Wow, keep going.

Add up your weekly totals and report back to us at every Zoom meeting, or Email us for those who cannot join on Zoom. We will add the miles we all cover and plot a chart of how far we get each week. For those who do not leave home walk your house or do laps in the garden and tell us how far you have done.

See Map below

Biggleswade District has introduced "The BIGG Challenge" see the link BIGG Challenge Printable PDF. On completion of the challenge you will be presented with a special Challenge Badge.

As part of Armstrong weekly meetings we will be working towards that badge but the BIGG Challenge PDFhas lots of great ideas for you to try at home so do have a look and let us know anything that you have covered yourselves.

British Sign Language

We would like you to learn a word or your name in sign language (its useful for communicating across class when you should be quiet!!!) Link to sign language BSL language chart and a video of 100 Basic Signs in British Sigh Language
Toilet Roll Keepy-uppy Video Challenge Well done to all those who took part, the video is shown below..
Week 4 walking has increased the total to 1115 miles. Well done and keep going.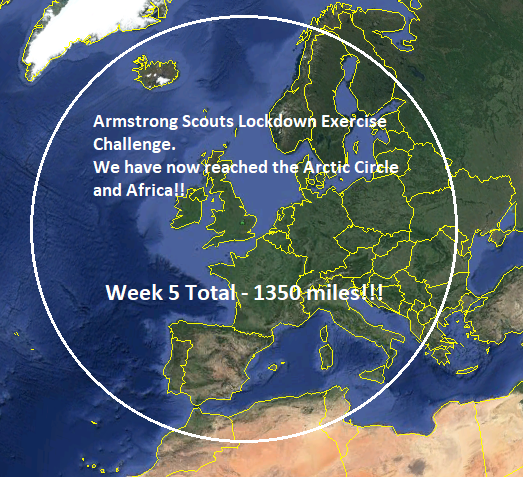 Resources to look at during Lockdown and beyond.
Don't forget to Email us pictures of any thing you make or do – see the badges link below.
Napkin Folding Link to the Napkin folding on our 2nd trip to the zoom 
Scout Activity Badges  Do you have a hobby or do an activity then there are Scout activity badges that you could try whilst we are encouraged to stay indoors.  Please look at the scout web site for details. Let us know if you try any, we will see what you have done and award the Badge when we return.
Don't forget to look for bears on your daily exercise walk
Contact us: armstrongscouts@gmail.com
Interested in joining scouts, please email your details to scoutwaitinglist@gmail.com